Cruising through my files, I stumbled across this blog post I'd written as an English teacher to high school juniors.  I've been retired for over four years now, but reading this transported me back to the classroom, to those days when I wondered if June would ever arrive, and to those students…many of whom have stayed in touch with me via Facebook. 
I remember having these actual discussions with my students. Now, with the perspective of time, I find them amusing. In fact, this was my giggle for the day.
DIRECTIONS ON HANDOUT:
Write an essay consisting of five paragraphs.
Staple this handout to the back of your paper before submitting it.
Your essay is due at the end of class.
QUESTIONS TO TEACHER (ME) FROM STUDENTS:
Does it really have to be five paragraphs? What if I write only four?
Where do I staple this handout?
Do you really want this stapled to my essay?
Am I supposed to staple this to the back of my essay?
I'm out of staples.
What if I don't finish? Can I take this home?
WHAT STUDENTS REALLY WANT TO SAY:
If we barrage you with enough questions, we think you'll eventually back off. We would rather listen to an hour of Frank Sinatra than write even fifty words on a sheet of paper.
We know you told us at the beginning of the school year to purchase our own mini-stapler, but we either didn't purchase one, purchased one and lost it, purchased one and broke it, and/or it ran out of staples five months ago when the kid behind me took it and emptied the staples, one by one, into my hair. I've passed any number of places where I could purchase more staples and/or a stapler, but I really didn't have time to stop because Starbucks was about to open or close, and I needed to be there. Anyway, we don't understand why you won't allow us to use your stapler when we know you're hiding at least two of them in your desk.
Is the earth going to stop spinning if I staple the handout to the front instead of the back? Sometimes you seem just a tad bit OCD. We think, perhaps, we might be able to help you overcome that if we don't always follow directions.
We know we could finish before the end of class, but we have homework for Free Enterprise/Civics/Biology/Spanish/French/Geometry that's due next hour. And, Heather didn't have time in my other class to finish telling me what happened at Prom because she got all caught up in the fashion disaster that Missy wore and then the bell rang.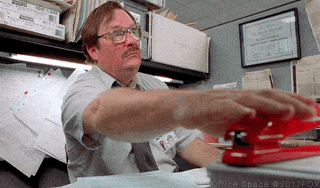 WHAT THE TEACHER REALLY WANTS TO SAY (and sometimes MAY say some of the below):
Directions are entirely at your discretion. Feel free NOT to follow them; however, feel equally free to stand ready for the consequences.
Students in 11th grade honors  should be able to burp five paragraphs in fifty minutes. That's ten minutes per paragraph. If you think that's not a long time, think about being poked in the eye with a hot stick for ten minutes.
If you write only four paragraphs, that's one less paragraph I need to read. See #1.
Yes, I want the handout stapled to the BACK because I don't want to read 100+ essays and have to flip the handout out of the way every time. You will need the handout when I return the essay to remind you of the directions. See #1.
I told you in August that if you were old enough to sit behind the wheel of a moving vehicle traveling at 50+ miles per hour, you were certainly old enough and responsible enough to purchase, be trusted with, and use a stapler no longer than 2-3 inches.
For the record, I have THREE staplers. I purchased them with MY money. Years ago, I allowed students to use my stapler. Over that period of time, staplers were "lost," broken, or abused. When it was time to submit papers, the room sounded as if it had been invaded by wildebeests galloping through the Kalahari when 25-30 students would simultaneously flock to my desk. It was uncivilized. And it wasted valuable class time. And it made ME responsible for YOUR paper. And so the entitlement program of free stapling ended.
My directions may seem, possibly could be, OCD-ish. Wait until you fill out your first tax return. Ask the IRS if you can switch around the information. Let me know how that works for you.
The lesson isn't limited to the writing. It's a lesson on being responsible, practicing wise time management, and following directions.
Clearly, socialization is an integral part of the high school experience, one which I certainly would not want you to experience the pain of deprivation. So, to accommodate that need, we have scheduled special times for your bonding with friends. We call it before and after school, passing time between classes, and lunch.
https://christaallan.com/wp-content/uploads/2017/06/31zq8VBceL.jpg
400
400
Christa
http://christaallan.com/wp-content/uploads/2015/07/christalogo1-300x62.png
Christa
2017-06-16 01:39:32
2017-06-15 22:45:01
I never promised you a rose garden...or a stapler